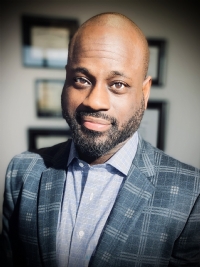 Partner - Chijioke E. Offor
Bank of America Plaza
901 Main Street, Suite 3300
Dallas, Texas 75202
214.593.9128 (Direct)
214.593.9110 (Firm)
214.593.9111 (Fax)
EMAIL Chijioke E. Offor


vCard
Biography

Chijioke Offor ("Chiji") is a plaintiff's litigation and trial attorney with an uncanny ability to recognize the true nature of technology and events; a relentless curiosity for science, law, and public data; and a philosophy centered on continually revaluating evidence and advancing arguments that ring true to judges and juries.
Chiji was co-lead counsel on the Firm's trial team that won a $42 million patent infringement jury verdict for UT System and TissueGen, Inc. in January 2023. Since 2017, Chiji has led the Firm's enforcement of patents covering certain university drug delivery innovations against major medical device companies. Chiji developed and led the Firm's litigation strategy in each case; helped defeat institution of multiple inter partes review petitions; deposed over two dozen witnesses, including all key fact, expert, and corporate witnesses; and defeated every dispositive motion and every Daubert challenge filed by counsel at respected national and global law firms. Chiji's success for our clients is evidenced by multiple seven-figure settlements over the past four years; the removal of infringing technology from products on the market; and the Firm's most recent jury trial win which included a finding that the defendant medical device company willfully infringed the patent. Chiji regularly engages with university technology managers and has been an invited panelist and speaker on patent enforcement topics.
One highlight of Chiji's early career was his work in Vazquez v. Vasquez, where he led a trial team that won a three-day federal court bench trial and reunited a mother with her minor child who had been abducted in violation of The Hague Convention. Vazquez v. Vasquez, No. 13-cv-1445-B, 2013 WL 7045041 (N.D. Tex. Aug. 27, 2013), aff'd sub nom. Sealed Appellee v. Sealed Appellant, 575 F. App'x 507 (5th Cir. 2014).
Chiji's pro bono efforts in the Vazquez case, and in asylum and school ticketing cases, resulted in a Pro Bono Service Award (Dallas Area Young Lawyers, 2014) and recognition as a Pro Bono Champion (Texas Bar Journal, April 2014). Chiji served on the YP Board of the Dallas Regional Chamber Young Professionals (2011-2013) and the Advisory Council for the School of Economic, Political and Policy Sciences at the University of Texas at Dallas (2013-2022). Chiji is a past member of the Honorable Barbara M. G. Lynn American Intellectual Property Inn of Court (founding Associate, 2011-2013; Barrister, 2018-2020). Before joining the Firm in 2017, Chiji gained nine years of patent litigation defense and enforcement experience at Jones Day (2008-2016) and Carrington Coleman (2016-2017) in Dallas, Texas.
Education

J.D., University of Wisconsin-Madison School of Law, 2008 (Academic Achievement Honors; Two-time Regional Semifinalist, TYLA National Trial Competition; Executive Board, Moot Court; John Marshall IT & Security Law Moot Court Team)

B.S.E., Computer Science, University of Michigan-Ann Arbor, College of Engineering, 2005
Admissions

Texas

U.S. District Court for the Eastern District of Texas

U.S. District Court for the Western District of Texas

U.S. District Court for the Northern District of Texas

U.S. District Court for the Southern District of Texas

U.S. Court of Appeals for the Federal Circuit

Fifth Circuit Court of Appeals

U.S. District Court for Colorado
Recognitions

Texas Super Lawyer 2021-2023

Texas Rising Star in 2013 - 2018 (less than 2.5% of lawyers under the age of 40 are elected as "Rising Stars")